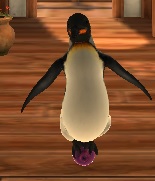 The Emperor Penguin (or simply the Penguin) is one of the animals which you can summon as a spirit animal on the Spirit Animals website. It originates from Arctica, and is in the Penguin category.
Penguin-based Skills
Penguin Blizzard - Call upon the freezing winds of your penguin's home to push back enermies.
Level 2 - Increase push force.
Level 3 - Increase duration.
Level 4 - Add slow effect.
Ice Prison - The bond with your penguin allows you to summon a crag of ice to trap an enermy for a time.
Level 2 - Upon destruction, the ice crag shatters, dealing damage to nearby enemies.
Level 3 - Ice crag can now be pushed around, dealing damage to enemies while it's in motion.
Level 4 - Ice crag can be shattered early with a ranged attack.
Stats
(At Level 40)
Damage: 2,459
Movement Speed: 100
Attack Speed: 100
Bond: *may vary*
Trivia
It is the moderators favourite spirit animal--Keith, Lauren and Gavin are known to have one each.
The penguin always makes a chirping sound when it comes out of it's dormant state.
According to the online players, it is the least popular spirit animal.
The penguin does the least damage.
Gallery
Community content is available under
CC-BY-SA
unless otherwise noted.