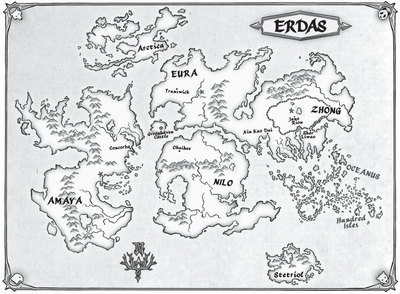 Erdas is the world in which the books are set in. It is roughly based off of Earth.
Continents
Like Earth, Erdas is made up of seven continents:
Language
In Wild Born, Rollan mentioned that Meilin spoke the 'Common' language. Each continent has their own languages (and many sub-languages, presumably) but 'Common' is most likely a language that is taught to the majority of people over all of the continents, similar to English in the real world. The languages of Erdas were rarely touched upon until Immortal Guardians and the books thereafter, where several characters spoke their native languages. Rollan also taught Abeke some Amayan hand signals and their meanings.
Trivia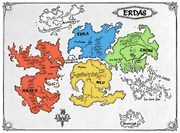 Community content is available under
CC-BY-SA
unless otherwise noted.