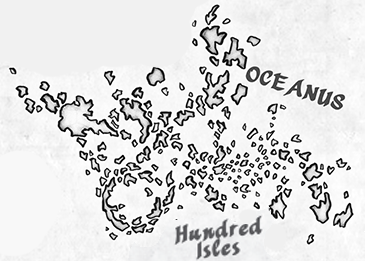 Oceanus is one of the continents of Erdas. It is a form of Oceania (mainly New Zealand, as stated by Tui T. Sutherland)[1] and Hawaii. The Hundred Isles is located here. It is also home to Mulop the Octopus and is the main setting of Against the Tide.
Kalani, Timote, Piri, Tangaroa, and Niri are the only named Oceanic characters.
Description
Oceanus is a cluster of islands with a tropical climate. It is located below Zhong. During the Second Devourer War, the continent was taken over by The Conquerors. It was also the place (nightshade island) where King Feliandor was given the Bile, therefore starting the First Devourer War.
Villages/Islands
Gallery
References
Community content is available under
CC-BY-SA
unless otherwise noted.