The SA Game is an online RPG made to accompany the main Spirit Animals series.
Overview
The Spirit Animals game was located and accessed through the website. Now it is only available on mobile, check here for more. The game itself has a level 40 cap (Updated to a level 300 cap). Levels 2 to 40 each have a special "Heroic" Quest to defeat a Conqueror; Levels 10, 15, 20, 25, 30, 35 and 40 quests involve retrieving a Talisman.
SA is an RPG (Role-playing game), which means you are playing the role of the Keeper. As Keeper, you play the role of retrieving Talismans and aiding Worthy, and defeating bile animals, wyrm creatures, and Conquerors.
Throughout the game, you obtain new armor and weapons, as well as new, and more powerful skills. If you have bought or borrowed a Spirit Animals book, it will come with a code that you can enter to redeem in-game rewards (usually gold or
Greenheart Tokens
). When you enter a code, it will prompt you to find specific words in the book, to avoid "fake" codes.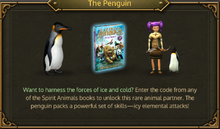 Being online-based, the Spirit Animals game comes with multiplayer features. Each player-made server, or Council, can contain up to 10 people at one time. You may start your own council or create a private council. In the council is the default map with the general room, merchant, armory, skills etc. available for use. There is a chat feature with a filtered dictionary and can be toggled on/off in the settings menu.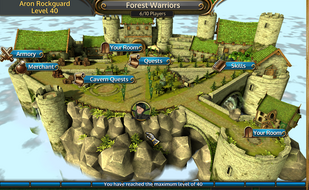 Review/Gameplay
Spirit Animals is an RPG game based on the Spirit Animals books. As of the 3rd of August 2015, Keith F. (an admin for the game) has announced that there are going to be 27 spirit animals in total to choose, which includes the Fox, Tiger, Penguin, and Komodo Dragon, and much more. Most players earn armor, experience, equipment and gold by playing quests. There are four types of quests: casual quests (which are free and yield a small amount of rewards), normal quests (which yield more rewards) and challenging quests (which yields epic rewards; a treasure room is guaranteed). There are also heroic quests, which gives a large amount of XP and occasionally talismans. Some quests can be taken on for a number of tokens or coins.
Trivia
The music in the game menu is called Battle of the Shadow Elves and is composed by Chris Haigh. The music is also in a game called Stick Wars.
The max melee speed is 215. This is using full Golden Sky, the Amber Leopard of Uraza, the Penance of Red, and a level 40 unique dagger.
The max melee damage is 18,730. This is using the Obsidian Axe and Ape of Kovo.
The max health is 9,378. This is using the Bamboo Staff and Panda of Jhi, the Hunter's Favor, The Penance of Red, and full Wild Weald.
The max armor is 1,479. This is using The Promise of Green, The Viridian Coil/Tide Cutter, and full Golden Sky/Meteorite.
Community content is available under
CC-BY-SA
unless otherwise noted.