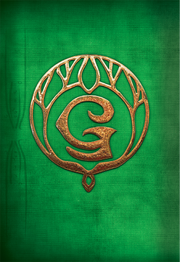 The Greencloaks
are a group of Marked individuals (people with
spirit animals
) who fight against evil and train to bond better with their spirit animals. Their current leader is 
Olvan
, and most Greencloaks live in their base; an island off the coast of
Eura
called
Greenhaven
. 
Rollan believes that they push too far when it comes to responsibility and destiny. Monte and Barlow tell Tarik they should stop pushing kids into battle and training, as they had been recruited as kids themselves. The Conquerors also think that they are too secretive with the Nectar of Ninani. Meilin is privately impressed with them; she likes the fact that the Greencloaks allow Marked women to join their ranks, unlike the Zhongese army. Greencloaks do not usually get married, as revealed in Broken Ground, most likely because it could distract them from their duties.
History
During the first war against The Devourer, the Conquerors moved in on the Verdani people of Nilo, who were goat hoarders. They killed off their goats and left, taking and destroying everything. One member of the Verdani, Tembo, started a small resistance with other victims of the siege. They wore green cloaks to blend in with the grasslands of Nilo, which often messed with the Conquerors. Later, they were named the Greencloaks. Thus, when the four fallen joined them the army of Greencloaks grew, more and more Marked people coming to join and fight against the Conquerors.
Ninani the Swan granted the Greencloaks her Nectar of Ninani, which assisted in summoning a spirit animal safely. Uraza the Leopard was the first Great Beast to aid the Greencloaks in battle.
Known Greencloaks
Trivia
Gallery
Community content is available under
CC-BY-SA
unless otherwise noted.