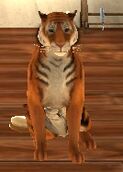 The Tiger is the strongest spirit animal you can choose from. They cause relatively more damage than other animals. It is in the Feline category.
Tiger-based Skills
Hunter's Gaze
The Tiger charges forward, pulling every enemy toward it and disappears, going dormant. It stuns and damages enemies.
Level 2- Increase radius
Level 3- Increase force of pull
Level 4- Increase stun duration
Tiger's Claw
Tiger and hero spin, stunning and damaging enemies.
Level 2- Add stun effect
Level 3- Increase duration of spin
Level 4- Move while spinning
Stats
(At Level 40)
Damage: 2,459
Movement Speed: 100
Attack Speed: 100
Bond: DEPENDENT ON FURNITURE
Trivia
Tigers cause the most damage.
Like the komodo dragon, tigers will sometimes swallow the ball when playing.
Gallery
Community content is available under
CC-BY-SA
unless otherwise noted.